I'm Paolo Amoroso, an astronomy and space popularizer, a Google expert, a writer, and a podcaster.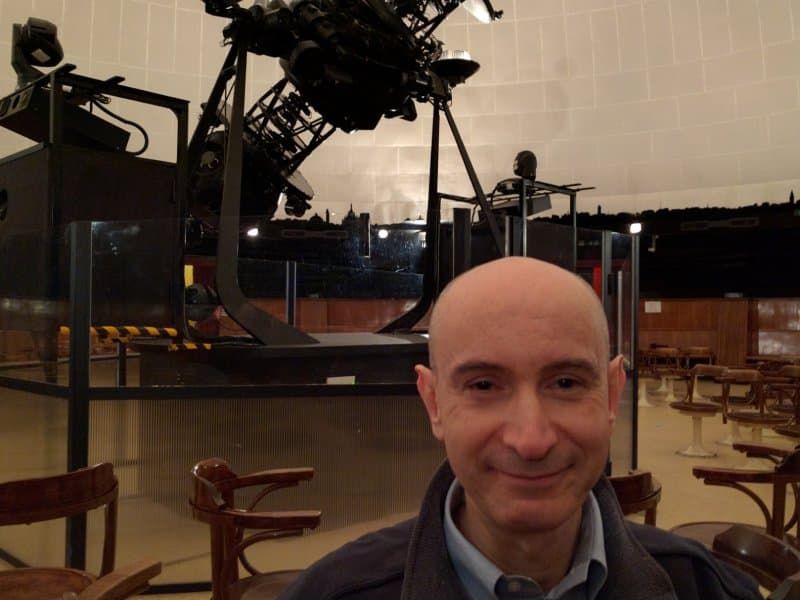 Paolo Amoroso at the Planetarium of Milan, Italy.
I have been doing astronomy and space outreach and education since the early 1980s, working at the Ulrico Hoepli Planetarium as well as the Brera Astronomical Museum in Milan. The activities I did range from lectures, observing sessions of the sky with Giovanni Virginio Schiaparelli's historical 8" Merz telescope, guided tours of astronomical facilities and space exhibitions, to teaching astronomy at a Prada Foundation art exhibition.
I wrote the official Italian translation of the training and mission Logbook of ESA astronaut Samantha Cristoforetti and the glossary of her autobiography, Diario di un'apprendista astronauta.
As part of my space outreach activities I have been a co-host of AstronautiCAST, the first Italian space podcast, since its beginning in 2007 and I'm a board member of AstronautiCAST's parent organization ISAA, the Italian Space and Astronautics Association.
I have been a member of the Google Top Contributor Program and later the Product Experts Program since 2013. In 2016 Google invited me as a founding member of the Google+ Create Program.
Interviews
Ritratto di Samantha Cristoforetti: Ad Astra
In an Italian documentary that tells the story of astronaut Samantha Cristoforetti through the memories of some of her friends and colleagues, I shared the story of how I first met Samantha.
Do You Speak Tech?
My friend Cocopraise interviewed me about space as a guest of his show Do You Speak Tech? at Near fm community radio for Dublin North East.
OnEBoard
The OnEBoard members interviewed me on why my blog is my online home, how I started my newsletter, my space outreach activities, understanding and keeping up to date with the Google ecosystem, and more.
Repl Talk
A chat with Nathan Zilora of Repl Talk, the community forum of the Replit multi-language cloud IDE. I focused on Python in astronomy but also talked about how I started using Replit and my activities in the Google Product Experts Program.
Frontmatter: The Leanpub Author Stories Podcast
In the May 22, 2019 episode Leanpub co-founder Len Epp interviewed me about my background, the work I did in astronomy popularization, Google+, the Google Product Experts Program, my book, and more.
OnEBoard
A chat with with Nina Trankova, Monika Schmidt, and Bob Danley of OnEBoard on how I used my posts to a Google+ collection to put together the initial draft of my book and published it to Leanpub.